May 2017 Employee of the Month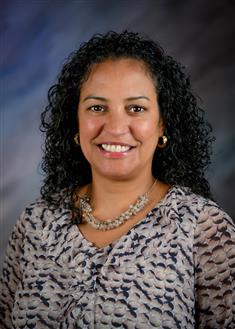 Phone:
Email:
Degrees and Certifications:
Ismenia Cabrera Hill, Clerk II Spanish Speaking

For 25 years, Ismenia Cabrera Hill has served the students and families in the District. Ismenia began her career in 1992 as a school aide in the HIPPY program serving early childhood families and in 1999 she transferred to the Enrico Fermi School. In 2001 she was promoted to provisional data entry clerk at the Eugenio Maria De Hostos MicroSociety School. In 2003, Ismenia joined the Special Education and Pupil Support Services Department earned an upgrade in 2015 to a Clerk II, her current position.

Spearheaded by Assistant Superintendent Dr. Luis Rodriguez and the entire administrative team the accolades read, Ms. Cabrera is a dedicated professional who always goes above and beyond. She never hesitates to assist with parent questions or concerns, school crises or administrators' requests. Her professional, caring demeanor is often commented on by staff, administrators and parents. She is a knowledgeable resource for all of her colleagues. When asked what she liked most about her job, Ismenia wrote, being able to help Yonkers Public Schools families with their special education needs.

Ismenia and Stephen Hill live in Yonkers. Ismenia is the proud mother of daughter Nicole Rosario and Eric Rosario Jr. who graduated from Gorton and Lincoln high schools.

Ismenia on behalf of the students, staff and families of Yonkers Public Schools, we would like to thank you for your continued commitment and hard work; your efforts have made a valuable difference in the lives of our students and staff.