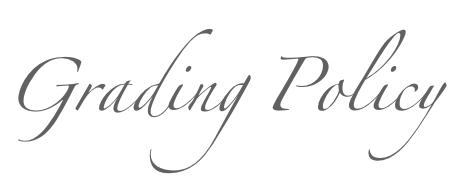 Test, Quizzes, Projects & Labs:

There will be in-class tests at the end of every unit, and in-class quizzes may be given at any time. If you are absent on the day of a test or quiz, you will be expected to make up any missed test or quiz on the day you return during your lunch and recess time. You must see the teacher to make these arrangements.

Class Work/Engagement:

Your classwork will be kept in your binder that will also be kept in our science classroom. To get full credit in this area, you will need to show 100% completion of classwork in your binder AND expect random binder checks which will also be included in your class work grade. Keeping a neat binder with completed work and notes will get you a high grade in this area!

Homework:
Expect science homework regularly. I will always give you more than one day to complete a homework assignment. Some homework assignments will be short and some homework assignments might be longer which I will give you more time for. I will collect homework right at the beginning of class. Homework should be in hand upon entering the classroom and placed into the homework bin by the binders. This class will be extremely difficult if you do not keep up with homework. I understand that we all have other things that we need to do after school which is why I will always give you more then one day to complete the work. It is your responsibility to hand in completed, neat and clearly labeled assignments. If a student is absent it is his/her responsibility to make up any missing assignments as soon as possible. I strongly recommend if you do not understand the assignment you missed, please make an appointment with me to get help during lunch.

Participation & Attendance

You are expected to be prepared, participate in group discussions, work together on activities, answer questions posed by the teacher, present solutions to homework problems to the class, take notes on all lessons, and follow general directions. It is very important that you attend class daily. Once again, if you are absent, it is your responsibility to find out what you have missed.