¡Bienvenidos a la clase de español!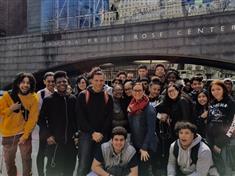 Phone: 9143768400
Email:
Degrees and Certifications:
BA- Spanish MS- School counseling MS - School supervision and administration
Ms.

Pamela Wermuth

I am pleased to be your child's Spanish teacher this year. I am very interested in having your support and working as a team with your family in order to have a very successful school year. I understand that every child has different strengths and weaknesses in their learning process. Therefore I am committed to having differentiated instruction in my class with a variety of opportunities for my students' to achieve their goals. Nevertheless, learning a language involves repetition, constant work, and memorization skills. I will request your support at home in order to reach our goal this year. Please do not hesitate to call or e-mail. I will try to respond to you as soon as possible. ¡muchas gracias!

Dear Students,

Please visit the REMIND app everyday for daily assignments!

6/15/2020 Monday- 6/18/2020 Thursday

Good Morning! Welcome to week 14 of distance learning!

Thank you for such a wonderful year, I know this has been challenging for all of us. Yet despite all of these challenges I am very impressed with how resilient you all are and proud to how you rose to the occasion. On Remind please find your last and final assignment from me, it is a virtual trip. (Courtesy of Dr. Arias) and as always if you have any questions please contact me on remind, cuidense!

gracias

Email:

pwermuth@yonkerspublicschools.org

Some Helpful resources:

https://spanish-resources.com/skill/listening

https://conjuguemos.com/teacher/library Student Access Code kbrdnl

Please add yourself on Remind

period 3---https://www.remind.com/join/b1per

period 4---https://www.remind.com/join/b1peri

period 5---https://www.remind.com/join/b1perio

period 7---https://www.remind.com/join/pwermuth

period 8--https://www.remind.com/join/b1period8

Hours of availability

Monday- Friday 7:30am-9:30am & 11:30am-1:00pm

in addition all assignments that are posted can be found on each remind page, can't wait to see you there!! Gracias!