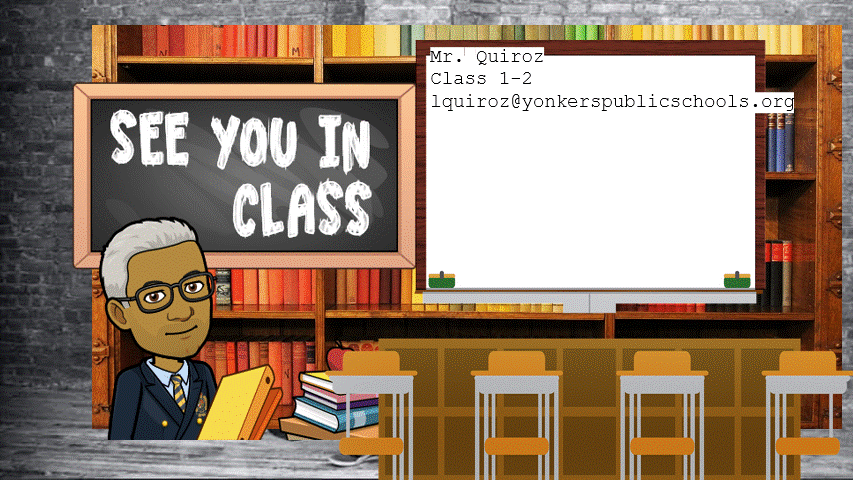 Phone: 914-376-8460
Email:
Degrees and Certifications:
Mr.

Quiroz

September 2020

Dear Parents,

We will be using Microsoft Teams to foster connection between students and teachers and remote learning instruction. Microsoft Teams is part of the Office 365 suite, which we use in our district in a variety of ways.

Microsoft Teams is accessible from multiple devices (laptop, iPad, tablet, or cell phone). When scheduled, your student will be able to join a call and see their teachers live. If your family is sharing a device, your student can watch a recording of the live call when their schedule allows. Additionally, your students can also access pre-recorded lesson and other activities your teacher creates.

If you are using a cell phone to connect, you can download the Microsoft Teams app (from App Store). If you are using an iPad or a Mac computer, you will also want to download the Microsoft Teams app from the App Store. (Be sure to also download the Word, PowerPoint, and Stream app to make your student's workflow more efficient).

If your child will access Microsoft Teams by laptop or tablet go to the Internet and type portal.office.com into to the URL bar.

From whatever device you access Microsoft Teams you will use the following login for your student – for Office 365.

Username: Students' Identification Number Example:123456@yonkerspublicschools.org

Password: Students' Full Birth-date

Example: 03121985

To ensure everyone knows how to join a Teams call, we are sharing the following directions:
Login to Office 365 (portal.office.com)

Select the Teams icon
When students reach the Teams page, they will see icons for their class period that they have with me. (This will look different for every student, but the names of the Teams include the period so they should be able to easily identify the Team they need to select.)
When it is time for their class to begin, they will see a Join Now button either at the bottom Posts Tab when their teacher begins the call.

Students will select that Join Now button, and they will then see their teacher and other students
Sincerely,
Mr. Mark Ametrano
4 de septiembre de 2020
Estimados padres,
Usaremos Microsoft Teams para fomentar la conexión entre estudiantes y maestros y la instrucción de aprendizaje remoto. Microsoft Teams es parte del paquete Office 365, que usamos en nuestro distrito de diversas formas.
Se puede acceder a Microsoft Teams desde varios dispositivos (computadora portátil, iPad, tableta o teléfono celular). Cuando esté programado, su estudiante podrá unirse a una llamada y ver a sus maestros en vivo. Si su familia está compartiendo un dispositivo, su estudiante puede ver una grabación de la llamada en vivo cuando su horario lo permita. Además, sus estudiantes también pueden acceder a lecciones pregrabadas y otras actividades que crea su profesor.
Si está usando un teléfono celular para conectarse, puede descargar la aplicación Microsoft Teams (desde App Store). Si está usando un iPad o una computadora Mac, también querrá descargar la aplicación Microsoft Teams de la App Store. (Asegúrese de descargar también la aplicación Word, PowerPoint y Stream para que el flujo de trabajo de su estudiante sea más eficiente).
Si su hijo va a acceder a Microsoft Teams por computadora portátil o tableta, vaya a Internet y escriba portal.office.com en la barra de URL. Desde cualquier dispositivo al que acceda a Microsoft Teams, utilizará el siguiente inicio de sesión para su alumno: Office 365.
Nombre de usuario: Número de identificación del estudiante Ejemplo: 123456@yonkerspublicschools.org
Contraseña: fecha de nacimiento completa de los estudiantes
Ejemplo: 03121985
Me comunicaré con sus familias por correo electrónico, ClassDojo y la página de la escuela con respecto a cómo se conectará la clase. Para asegurarnos de que todos sepan cómo unirse a una llamada de Teams, compartimos las siguientes instrucciones:
Inicie sesión en Office 365 (portal.office.com)
Seleccione el icono de Equipos
Cuando los estudiantes lleguen a la página de Equipos, verán los íconos de su período de clase que tienen conmigo. (Esto se verá diferente para cada estudiante, pero los nombres de los equipos incluyen el período, por lo que deberían poder identificar fácilmente el equipo que deben seleccionar).
Cuando sea el momento de que comience su clase, verán un botón Unirse ahora en la pestaña de Publicaciones inferior cuando su maestro comience la llamada.
Los estudiantes seleccionarán el botón Unirse ahora y luego verán a su maestro y otros estudiantes.
Sincerely,
Mr. Mark Ametrano