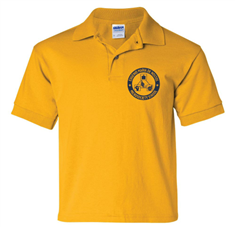 Families may purchase uniform shirts, pants, and shorts with the school logo at the website linked below:

http://emhm.nycschooluniforms.com

Families may also choose to purchase their child's uniform without the school logo at the store of their choice. The uniform is a yellow shirt and dark blue pants. No designs, logos, or graphics may be displayed on the uniform.

Note: Students are not permitted to wear ripped jeans or any other pants with holes in them.

Las familias pueden comprar camisas, pantalones y shorts uniformes con el logo de la escuela en el sitio Web enlazado a continuación:

http://emhm.nycschooluniforms.com

Familias también pueden optar por comprar el uniforme de su hijo sin el logotipo de la escuela en la tienda de su elección. El uniforme es una camisa amarilla y pantalones de color azul oscuro. No se pueden mostrar diseños, logotipos o gráficos en el uniforme.

Nota: A los estudiantes no se les permite usar jeans rasgados o cualquier otro pantalón con agujeros en ellos.