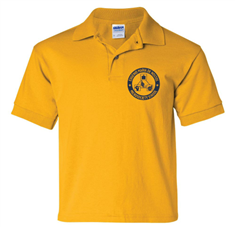 Families may purchase uniform shirts, pants, and shorts with the school logo from the PTA. Once the ordering window opens we'll update the forms below.

For School Delivery from the PTA: PTA Uniform Store

Families may also choose to purchase their child's uniform without the school logo at the store of their choice. The uniform is a yellow shirt and dark blue pants. No designs, logos, or graphics may be displayed on the uniform.

Note: Students are not permitted to wear ripped jeans or any other pants with holes in them.

The PTA will also accept cash orders at select times throughout the school year. Please use this form to pay in cash.

Las familias pueden comprar camisas, pantalones y shorts uniformes con el logo de la escuela en los sitios Web enlazado a continuación:



Para el parto escolar de la PTA: PTA Uniform Store

Familias también pueden optar por comprar el uniforme de su hijo sin el logotipo de la escuela en la tienda de su elección. El uniforme es una camisa amarilla y pantalones de color azul oscuro. No se pueden mostrar diseños, logotipos o gráficos en el uniforme.

Nota: A los estudiantes no se les permite usar jeans rasgados o cualquier otro pantalón con agujeros en ellos.

La PTA también aceptará pedidos en efectivo en determinados momentos durante el año escolar. Utilice este formulario para pagar en efectivo.