Return to Headlines
Honors for Young Writers & Their Teachers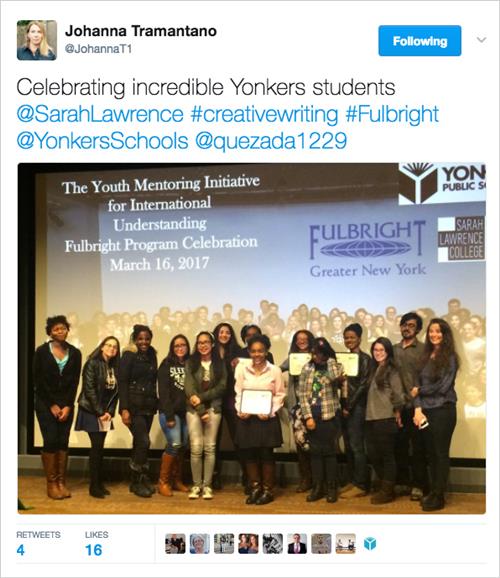 Ten Yonkers high school students read from their original writing at an awards program at Sarah Lawrence College. The students were honored for their Fulbright Association-sponsored participation in a week-long writing workshop held at the college.
The students are participants in the Youth Mentoring Initiative for International Understanding, a collaboration of Sarah Lawrence College's graduate writing program, the Greater New York Chapter of the Fulbright Association and Yonkers Public Schools.
Participating schools are Lincoln High School, Riverside High School, Yonkers Middle High School, Gorton High School, Saunders High School and Yonkers Montessori Academy. Congratulations to students Akacia Dunkez, Kiera Dewar, Paulina Alarcon, Max Lisbin, Daniella Noriega, Shamika Newton, Diana Ayala, Franyi Paulino, Alicia Mayo, and Maya Lisbin. Also present are current participating eighth grade students.
Patricia Dunn, Director of the Writing Institute and Assistant Dean of Graduate and Professional Studies and Sweet Orefice, Coordinator of The Writing Institute organized this wonderful event.