Parent/Guardian Communication - Remind
Please Join Remind!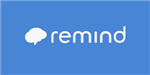 The 6th Grade Team will be using "Remind" as our primary tool for parent/guardian communication.
The sign-up information below is for BOTH 6th Grade Homerooms.
Please click on the link below to view our sign-up information and join "Remind" for the 2022/2023 school year.
Remind Sign-Up Information (English)
Remind Sign-Up Information (Spanish)