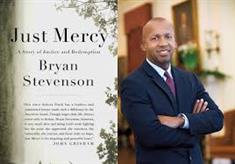 by Bryan Stephenson
Year Published: 2009
My favorite new book! A very compelling story about one man's journey in changing the legal system for the young, mentally ill and innocent. An important read for any age.
My favorite Stevenson quotes are:
"The true measure of our character is how we treat the poor, the disfavored, the accused, the incarcerated, and the condemned." and
"Proximity has taught me some basic and humbling truths, including this vital lesson: Each of us is more than the worst thing we've ever done."
I could not agree more.