Office Hours & IMPORTANT INFORMATION
Your MEMORIAL DAY ASSIGNMENT IS POSTED ON TEAMS!!!
As of WEDNESDAY, APRIL 22, I WILL BE USING THE Microsoft TEAMS PLATFORM EXCLUSIVELY. I WILL NO LONGER BE USING REMIND.
1. PLEASE USE THE CHAT FEATURE ON MICROSOFT TEAMS TO REACH ME. MY OFFICE HOURS FOR QUESTIONS AND CONCERNS ARE FROM:
9:00 AM TO 5:30 PM MONDAY TO FRIDAY.
2. ALL Weekly lessons, VIDEOS AND ASSIGNMENTS WILL BE POSTED ON TEAMS every MONDAY BY 12 pm.
3.ALL ASSIGNMENTS will have a due date attached. Most assignments will be due SEVEN days after they are posted, giving you ample time to WATCH the videos and lessons and complete your work accordingly. PLEASE READ ALL DIRECTIONS THAT ACCOMPANY EACH ASSIGNMENT.
4. DO YOUR WORK ON LOOSELEAF, IN YOUR OWN HANDWRITING, THEN UPLOAD YOUR WORK TO TEAMS BY THE DUE DATE. THIS MEANS THAT YOU RETURN TO THE SAME PAGE WHERE YOU VIEWED THE ASSIGNMENT AND FIND THE WORDS "MY WORK" . CLICK ON THAT TO ATTACH A PICTURE OF YOUR WORK AND THEN CLICK the BLUE "TURN IN" BOX IN THE UPPER LEFT CORNER TO SUBMIT YOUR WORK. YOU THEN SEE SOME TYPE OF CONGRATULATORY IMAGE, SIGNIFYING THAT YOUR WORK HAS BEEN SUBMITTED.
***THERE ARE PICTURES OF THESE INSTRUCTIONS IN THE PHOTOS SECTION OF MY TEACHER PAGE, DIRECTLY ON YOUR RIGHT.*****
IF YOU HAVE ANY QUESTIONS AT ALL, PLEASE USE THE CHAT FEATURE ON TEAMS. I WILL GET BACK TO YOU AS SOON AS POSSIBLE.
GRAZIE E TUTTO ANDRÀ BENE.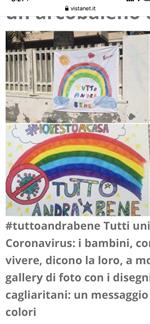 ♥ SRA. ELISH
#IORESTOACASA
#GRANDIEROI
THANK YOU TO ITALY FOR STARTING THE "7:00 CLAP" CLICK ON THE LINK BELOW TO SEE HOW IT ALL STARTED.
PREGHIERE PER LA MIA FAMIGLIA A PARMA. VI VOGLIO TANTO TANTO BENE. DIANA