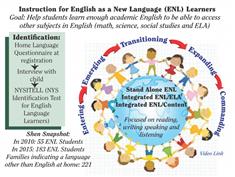 Phone: 914-376-8345
Email:
Degrees and Certifications:
Mrs.

Irene Romanello

Welcome to school 17 "where learning is fun!" I am a teacher of English as a New Language (ENL) Working in collaboration with the classroom teacher. The ENL program develops skills in speaking, listening, reading, and writing through content area instruction.

I hope everyone had a wonderful summer and are ready to begin the

2020-2021 school year. Whether I see you in person or virtually, I am excited to be working with you this year!

I will be working with ENL students in grades K, 1st, 2nd, 5th and 6th grades and will be reaching out to families this week using Microsoft Teams and will post a schedule in the next week. To log into Microsoft Teams, your child must use the following information:
Username is - student's ID number @yonkerspublicschools.org
Password is - student's date of birth mm/dd/year (8 digits)

We will be using Benchmark, our new reading program this year, along with other resources to help improve our reading, writing, speaking and listening skills.

If you have any questions, you may email at iromanello@yonkerspublicschools.org or message me thorough Microsoft Office 365 Teams Chat/Meeting,

To access Clever:
Go to www.clever.com/in/yonkers from any internet-enabled device
Click on "Log in with LDAP"
Enter your district e-mail address:

6 digit student ID followed by "@yonkerspublicschools.org" (e.g. 123456@yonkerspublicschools.org)

Enter your district password (same password used for district devices)
Click on any of the icons to access the instructional technology resources

For library resources that require different log-in credentials, hover over the application to display the username and password
Use the displayed username and password to access the resource

Cómo acceder a Clever

vaya a www.clever.com/in/yonkers desde cualquier dispositivo con acceso a Internet

haga clic en Iniciar sesión con LDAP

inicie sesión con LDAP utilizando la siguiente información:

La dirección de correo electrónico de YPS de su hijo, que es su identificación de estudiante de 6 dígitos que se encuentra en el Portal para padres seguida de @ yonkerspublicschools.org Por ejemplo

123456@yonkerspublicschools.org

La contraseña es el cumpleaños de su hijo en un MM / DD / YYYY. Por ejemplo, para el cumpleaños del 5 de octubre de 2015, ingresaría 10052015

Cómo acceder a Microsoft Teams

Vía Clever

A través de Microsoft Office

A través de la aplicación Teams

En Cleaver, haga clic en Office 365. Deberá ingresar la dirección de correo electrónico y la contraseña de YPS de su hijo (ver arriba). Luego, abra la aplicación Teams.

En office.com, inicie sesión con la dirección de correo electrónico y la contraseña de YPS de su hijo (consulte más arriba). Luego, abra la aplicación Microsoft Teams. A través de la aplicación Teams, verá el equipo de nuestra clase llamado 517-Newman's Own K1

Cómo unirse a una reunión de TEAMS

Iniciar sesión en EQUIPOS

Ir a la pestaña de calendario

En la sección de calendario, verá las diferentes reuniones a las que asistirá su hijo durante la semana. A la hora de la reunión, haga clic en el enlace para unirse a la reunión.
PBS LearningMeda Program for Parents and Teachers
Parents and Teachers please access free educational resources that supplement and enhance learning at PBS LearningMedia. PBS LearningMedia provides original digital content and supplemental viewing guides for on-air programming that enhance learning, including grade level collections and webinars.
https://ny.pbslearningmedia.org/
National Geographic
https://kids.nationalgeographic.com/
Education.com
Our easy-to-use, comprehensive, and secure supplemental digital learning program empowers administrators and teachers to help PreK-5 students build essential skills and excel in math and reading.
Razkids
Raz-Kids is an award-winning teaching product that provides comprehensive leveled reading resources for students. With hundreds of eBooks offered at 29 different levels of reading difficulty, it's easy to put the right content in every student's hands.