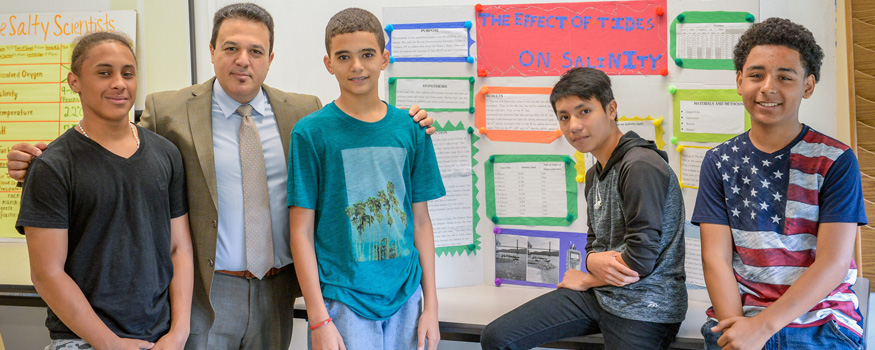 Phone:
Email:
Degrees and Certifications:
Dr.

Edwin M. Quezada, Superintendent of Schools

The Yonkers Board of Education appointed Dr. Edwin M. Quezada Superintendent of Schools at its March 16, 2016 Stated Meeting. The Trustees had previously appointed Dr. Quezada Interim Superintendent at a Special Meeting held on November 30, 2015. He also served as Acting Superintendent, Deputy Superintendent and Principal.

Dr. Quezada is passionate about quality teaching and learning, compassionate about children, proud of his humble beginnings and devoted to family.

His animated dialogue, perpetual motion and thoughtful collegial research moves the agenda of public education in Yonkers, New York.

An immigrant from the Dominican Republic, Dr. Quezada came to the Bronx, New York in September 1983. Completing most of his early education in the Dominican Republic, he graduated from James Monroe High School in 1985 and immediately began his college career at Herbert H. Lehman College completing his Bachelor's Degree in Accounting with a minor in Secondary Education in 1990. His education continued in 1995 earning a Master's Degree in Counseling from Lehman College, a degree in School Administration/District Supervision from Fordham University in 2000, and a Doctorate in Education from Walden University in 2012.

After only a year in accounting, Dr. Quezada followed his passion for education, and in 1990 chose his alma mater to begin his true life's work in academia. He began teaching high school accounting and computer applications to students in the regular, bilingual and special education programs. Due to his determination, hard work, and involvement in the school community, Dr. Quezada become the school's Bilingual coordinator where he was able to demonstrate his leadership skills. Through his work with high need students and their families school counseling was the logical next step in his career path, working at Columbus High School in the Bronx.

In January of 1998, Dr. Quezada joined the Yonkers Public Schools as a Human Relations Facilitator. This position offered him a broad spectrum of opportunities to establish his leadership and counseling skills. Recognized as a mover and shaker, he was encouraged to obtain a degree in school administration. He was appointed assistant principal at Gorton High School in 2000, Principal of Emerson Middle in 2003, and Principal of Lincoln High School in 2004.

Dr. Quezada's leadership embraces collegial collaboration, a commitment to the work, adherence to deadlines, and most importantly, the need for compassion and total focus on the academic success of children. Through his work at Lincoln High School, he honed his skills, collaboratively working with all stakeholders to construct a school where students are valued, respected, and encouraged to pursue college and their dreams. During his tenure as principal, Lincoln High School received state and local accolades for improving student achievement.

After ten years as a principal, Dr. Quezada was promoted to Assistant Superintendent for Secondary Administration and Supervision where he worked collaboratively with the Superintendent of Schools to sustain and create high performing high schools. In August 2014, Dr. Quezada was named Deputy Superintendent of Schools supporting the Superintendent of Schools and the Board of Education Trustees. In this position, he facilitated and supervised all of functions of the school district's 38 schools and central administrations - teaching and learning, budgetary, human resources, facilities, communications, technology – working with city, state and federal officials.

Dr. Quezada's Doctoral study examined extensive research on the correlation between the use of student achievement data and effective instruction. In addition to his formal education, he participated in the Harvard University Principal's Institute, the College Board Leadership Institute for Principals, and the Efficacy Institute training. Dr. Quezada's awards and recognition include The Lehman Urban Teacher Education Award, the New York State Theater Education Administrator of the Year Award, and the Asociación Cultural Dominicana de Yonkers Education Award. Recently, he was awarded the Institute for Latino Studies' Illustrious Award for Education and was featured as the cover story on the Walden University Alumni Magazine – Summer/Fall 2016. In October 2016, Dr. Quezada received the United Way Spirit of Westchester and Putnam Collective Impact Award.

Dr. Quezada is married to Gladys, a Yonkers teacher and together they have two children, Edwin Joseph and Alyssa Marie.