Mrs. Haviland - ENL - K-8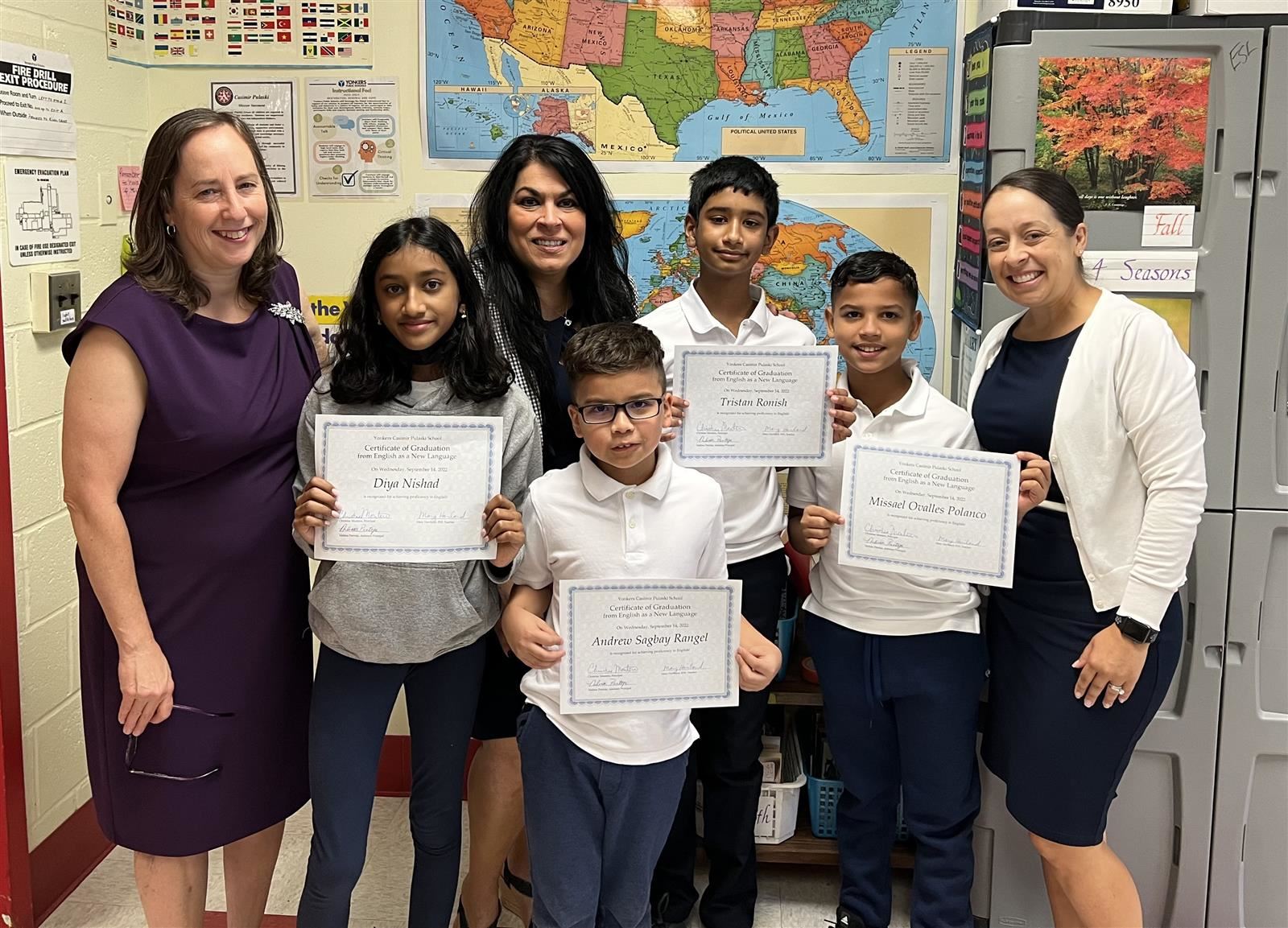 Phone: 914-376-8575
Email:
Degrees and Certifications:
BA English Literature-Binghamton University BA Spanish-Binghamton University MA ESOL- Manhattanville College 60+ credits
Mrs.

Haviland

Congratulations to our ENL graduates!!!

4th- Andrew Sagbay Rangel

4th- Sophia Delgado

5th - Massiel Ovalles Polanco

6th - Diya Rashad

6th - Tristan Ronish

9th - Andy Lucero

Congratulations to all our ENL students who worked very hard last year. Data from last year shows:

6 students graduated

6 students increased 2 levels

11 students increased 1 level and

10 students remained on the same level

If there is anything I can help you with, please contact me either by school phone: 914-376-8575 or by my email: mhaviland@yonkerspublicschools.org.

Dear Casimir Pulaski School Families,

Hello, my name is Mary Haviland. I am your English as a New Language (ENL) teacher at Casimir Pulaski School for grades K-8. I was born in the Bronx. I went to kindergarten in Puerto Rico. Then I grew up in Larchmont, NY. I studied Spanish all through middle school, high school and college and attended the 'Instituto Internacional' in Madrid, Spain for 1 year. I graduated from Binghamton University with a double major in English Literature and Spanish. After teaching English as a Second Language in Hita, Japan, I decided to become an ESL teacher in New York. I have enjoyed teaching ENL in Yonkers schools since 1992. Currently, I live in Mamaroneck, with my husband and 2 dogs, Lance and Merlin. Our two children are away at college. My son Milo is at Stony Brook University and my daughter Sam is entering her first year at Princeton University, My favorite hobbies are walking, swimming, and biking and I love to read fantasy and mystery novels.

I am looking forward to seeing all my returning students and having an exciting 31st year teaching English As a New Language for Pulaski students.
All students should be reading or listening to books in English to improve their language skills and vocabulary. They can listen to many books on Benchmark. Each child should try to learn 5 new words each day!

Here are some of my recommended educational websites:

Imagine Learning- All ENL students can access it through Clever to improve their English

Learn English- https://www.opdome.com/ - It's an online picture dictionary. Great site for beginners to learn beginner vocabulary with pictures and pronunciation

Starfall - https://www.starfall.com/h/ - Great for K-2 and newcomer students, teaches the alphabet and sounds, as well as beginning phonics and word families, fun stories and interactive learning games

Storyline Online - https://www.storylineonline.net/ -Great classic picture books read by famous people

Handwriting for Kids - http://www.handwritingforkids.com/ - Click on Manuscript or Cursive. Great printables for any letter of the alphabet, handwriting paper, and create your own with your child's name to practice. Watch the animation for how to write each letter.

Typing Club -https://www.typingclub.com/

Free Typing Games - https://www.freetypinggame.net/Default.asp

Word Central -http://wordcentral.com/cgi-bin/thesaurus?book=Thesaurus&va=lucky -Merriam Webster- useful dictionary, thesaurus & rhyming word site with games and word challenges to expand your mind

Newsela- https://newsela.com/ -is great for 3rd, 4th and up to learn about what is in the news today on their reading levels

East of the Web - http://www.eastoftheweb.com/short-stories/indexframe.html Many short stories and word games to read and play for 4th - 8th.