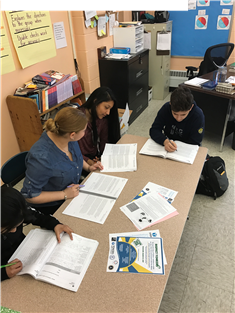 Phone: 914-376-8430
Email:
Degrees and Certifications:
Ms.

Mendoza

Hello Students and Families!!!

Hope this message finds you well!

This year, I will be teaching English Language Learners online in grades 6th-8th.

Please see the following teachers websites for the platforms we will use for distance learning:

6th grade- Ms. O'Connell & Ms. De Los Santos

7th grade- Mr. Mezzancello, Mrs. Randazzo-Bruno, & Mr. Webb

8th grade- Ms. Marinato & Mr. Williams

Please feel free to contact me via email at lmendoza3@yonkerspublicschools.org

Stay safe and healthy!

A little about me:

Hello everyone! My name is Laura Mendoza and I am the ENL teacher ( English as a New Language). I work with the 6th, 7th and 8th grade students.

I received a Bachelor of Science degree in Psychology and a Master of Science degree in Childhood Education, Grades 1-6. In addition, I have also completed a Masters in Teaching English to Speakers of Other Languages (TESOL) from Mercy College.

I enjoy working with children and helping them reach for their dreams through their education. An education should empower a child and help him or her make a positive contribution to our world.

Please feel free to contact me with any questions.
All Categories
Unassigned
Select Month
January
February
March
April
May
June
July
August
September
October
November
December
Select Year
2022
2023
2024
2025
Filter