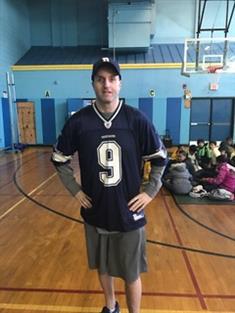 Phone: (914) 376-8430
Email:
Degrees and Certifications:
B.S. Physical Education Manhattan College M.S. Special Education Manhattan College
Mr.

Patrick Levins

Hostos Physical Education

The JUNE Fitness Calendar has been posted. Please click on that tab on the left to download or print.

Please remember to email coach your 2 Week Physical Activity Logs.

There is a new assignment posted for everyone to do on their P.E. Day. Information about VIRTUAL FIELD DAY is there.

I will be available by email, Monday through Friday (9:00-12:30), for any questions or suggestions. Remind your students to wash their hands for at least 20 seconds and remember to cough or sneeze into their elbow and not their hands.

It is important that our students stay physically active in order to keep healthy. It is recommended that students get 60 minutes of physical activity a day. Taking your student for a long walk is an excellent way of getting some exercise. Remember to practice social distancing. Stair climbing is another excellent exercise. Each time your students come to class they do the following exercise routine:
10 Jumping Jacks
10 Shoulder Shrugs
10 Arm Circles going forwards/10 Arm Circles going backwards
10 Squats
30 seconds seated hamstring stretch
30 seconds V sit stretch (right, left and center)
30 seconds groin stretch (sitting with bottoms of feet together)
10 push ups or a 30 second plank
10 crunches
30 seconds invisible jump roping
10 Burpees
10 Mountain Climbers
I'm going to ask all students to keep track of their physical activity using the log on my Assignments page, and send it to me at the end of two weeks.
Here are some other resources to get your student moving:
Apps to Help Students Exercise
Sworkit for Kids
Go Noodle
7 Minute Workout for Kids
Yoga For Kids
Super Stretch Yoga
Cosmic Kids
NFL Play 60
Just Dance Now
Kids Fitness Yoga
Websites for Exercise
www.physedgames.com
www.openphysed.org
Go Noodle
YouTube Channels
Benjamin Pirillo
Glenn Higgins Fitness
Fitness Blender
The Body Coach TV
Little Sports