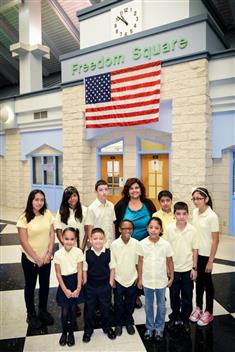 Phone: 914-376-8430
Email:
Degrees and Certifications:
Mrs.

Elda Perez-Mejia

Elda Perez-Mejia has been the principal of the Eugenio Maria de Hostos MicroSociety School since 2009. Ms. Perez-Mejia started her career in Yonkers in 1993 as a Kindergrten teacher. She then taught first grade and finally moved to Hostos as a 4th grade teacher for another 7 years. At that time, Ms. Mejia was approached to become the District Title VII Facilitator, the Bilingual Reading First Literacy Coach, Assistant Director of Bilingual, ESL and Foreign Languages.

In 2009, Mrs. Mejia was asked to become principal of Hostos and bring back the school's MicroSociety program to what it had been previously; an award winning, internationally recognized, one of a kind MicroSociety program. Having previously taught the Micro magnet as the Justice System facilitator, the Publishing Center, and the Newspaper venture, Mrs. Mejia knew the MicroSociety Philosophy and Tenets would be a perfect venue to take the school out of under performing status by the state, and Into Good Standing, a status which remains since 2012.

As an educator in the City of Yonkers for 23 years, not only is she an administrator, but also a parent of Yonkers Public School students.

Her philosophy is simple, "Treat every child like you want your own to be treated."