¡Bienvenidos al año escolar 2020-2021! / Welcome to the 2020-2021 School Year!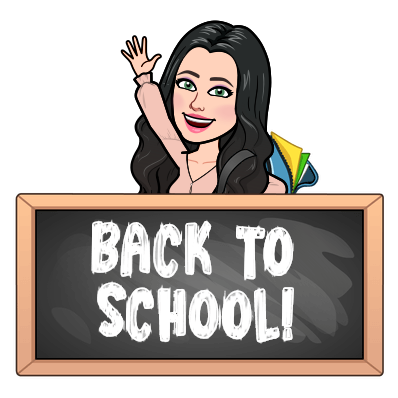 Phone: 914-376-8159
Email:
Degrees and Certifications:
Master's of Science in Education Birth-2nd Certification Birth-2nd Special Education Elementary Certification K-6 Elementary Special Education K-6 Bilingual Extension K-12 ESL Certification K-12
Mrs. Julie Loza

Maestra de 5to grado bilingue, Clase 5-1

Informacion importante :
Favor de asegurarse de llenar el cuestionario de Covid 19 cada vez que su hijo/a 
valla a la escuela. El cuesetionario se encuentra en la pagina de inicio de la 
escuela Dodson. 

Please make sure to fill out the Covid 19 questionare on the days your child 
goes to school. The Covid 19 questionare can be found on the home page of the 
Dodson website. 
Class Dojo link: https://www.classdojo.com/invite/?c=CVGWHQR
www.getepic.com
Epic Class Code: QYS7999
Estimados Padres y Estudiantes,

Estoy feliz de comenzar este año escolar con ustedes. Mi nombre es la Señora Loza. Este es mi primer ano en la escuela Dodson y mi décimo año trabajando en el districto de Yonkers como maestra. Estoy muy emocionado de unirme a la escuela Robert C. Dodson como maestra bilingüe de quinto grado. Espero que este año sea un año de aprendizaje, diversión y aventuras. Sé que todo es diferente, pero recuerde, estamos juntos en esto!

Aquí hay algunas cosas importantes que usted debe saber:

1. Los maestros y los estudiantes participarán en la instrucción en vivo a través de Microsoft Teams los lunes, martes, jueves y viernes. La clases comenzarán el martes, 8 de septiembre a las 7:35 de la manana. Para mas information acesca de Microsoft Teams, favor de entrar a la pagina del districto. Puedes mirar videos informativos para los padres instalar este programa. As un click al link debajo para ir a la pagina del districto.
https://www.yonkerspublicschools.org/domain/8338.
https://www.yonkerspublicschools.org/site/default.aspx?DomainID=4160
Al comenzar el año escolar actual de forma remota, valla a Clever y ingrese a la pagina use LDAP para ingresar. Los estudiantes deben usar su ID de 6 dígitos @yonkerspublicschools.org y usar su fecha de nacimiento mm/dd/aaaa (ejemplo 09/08/2020) como contraseña. Si se les pide que creen una nueva contraseña, debería ser Dodson511. Esta identificación y contraseña se utilizarán para acceder a todos las applicaciones a través de Clever. Es importante que recuerden su username y contraseña. Despues de entrar a Clever, vaya a Microsoft Teams y busque sus clases.
Para ir a Clever has un Click aquí: CLEVER
Para ir a Microsoft Teams has un click aquí : Microsoft Teams
2. Microsoft Teams y CLEVER serán las principales formas en que los estudiantes accederán a la instrucción y realizarán el trabajo, pero habra otras aplicaciones y paginas de web que se presentarán en los próximos días.

3. Estoy disponible para usted a través de la applicacion Class Dojo o usando el siguente correo electronico, jloza@yonkerspublicschools.org.



Dear Parents and Students,

I am happy to start the school year with you. My name is Mrs. Loza. This is my first year at Dodson School and my tenth year working in the Yonkers School District. I am very excited to join Robert C. Dodson School as a fifth grade bilingual teacher. I hope this year is a year full of learning, fun, and adventure. I know everything is different, but remember, we are in this together !
Here are some important things you should know:

1. Teachers and students will participate in live instruction through Microsoft Teams on Mondays, Tuesday, Thursdays and Fridays. Clases will begin on Tuesday, September 8th at 7:35am. For more information on Microsoft Teams, please go to the district page. There you can watch informative videos on how parents can install the program. Please click on the link to go to the Yonkers district page.
https://www.yonkerspublicschools.org/domain/8338.
https://www.yonkerspublicschools.org/site/default.aspx?DomainID=4160
As we start the current school year remotely, please log into Clever. Log in with LDAP. Students must use their 6-digit ID @yonkerspublicschools.org and use their date of birth mm/dd /yyyy (example 08/09/2020) as the password. If they are asked to create a new password, it should be Dodson511. Once you have logged into Clever, find Office 365, go to Microsoft Teams and find your classes. All instruction, assignments and communication (besides email) will take place there.
To log on to Clever click here: CLEVER
To log on to Microsoft Teams click here: Microsoft Teams

2. Microsoft Teams and CLEVER will be the primary ways that students will access instruction and complete their work, but there will be other programs and web cites that will be presented in the following days.

3. I am available to you through Class Dojo or using the following email, jloza@yonkerspublicschools.org.