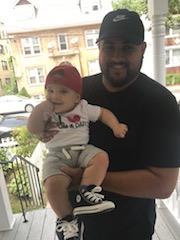 Phone:
Email:
Degrees and Certifications:
Mr.

H. Blanco

Born in New York City, Raised in the Dominican Republic and later on Washington Heights.

Taught at the High School for Media and Communications for 3 years.

4th year at Riverside High School

Baseball coach at Riverside for the past 4 years

Girls Soccer coach for the Lady Rams

Email: hblanco@yonkerspublicschools.org

The following applications are used to communicate with students and it is mandatory that students sign up:

Google Classroom: How to sign up is lower down on this page.

Remind: Please email me in order to get the class code.
During school closures, I will be available from 10am-3pm Monday - Friday for assistance with student learning. Please email me at hblanco@yonkerspublicschools.org. I will also do my best to respond to emails sent at any time of day, but emails sent after 7pm will most likely receive a response during the 10am-3pm window. Please submit all the assigned work through email. All work is listed under the Assignments tab and will be updated as needed. Make sure to sign up to our google classroom page (instructions on how to sign up are below). Stay safe and healthy and i will see you guys soon.

If you do not have access to a computer or the internet, you may complete paper-based assignments (write your assignments on looseleaf, send pictures of the work by email).

Hello everyone,

Please follow the following steps in order to sign up to google classroom. A lot of the worksheets that will be given out to you during the year will be placed up on this website. Remember that you must have a google account before signing up. This is free so it should not be a problem.

Sign in for the first time

Go to classroom.google.com and click Go to Classroom.
At the top, click Add Join class.
Enter the class code your teacher gave you and click Join.

Class Codes:

you must use one of the following class codes in order to sign up to the class. Make sure that you use the correct code for the correct class.

Global 9: dl77jf7

Global 10: q3kgjj2

If you have any questions please let me know.