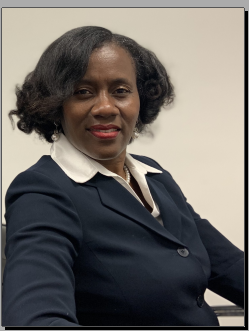 Phone: 914-376-8425
Email:
Degrees and Certifications:
Mrs.

Monica Creacy-Jackson

Welcome Back to School 2020-2021!

Hello Students and Families,

GREETINGS !! From Riverside High School.

My name is Mrs. Creacy-Jackson I will be teaching Living Environment and Environmental Science Teacher for the 2020-2021 school year. I have been apart of the "RAMILY" Family for the last 17 years. I am also the faculty advisor for the "Creacy's Corner Store" which is a class store. Club members learn various business skills and how to run and operate a store/business.

I am excited about the upcoming schools year. I am looking forward to seeing my returning students and meeting my new students. We will work together to learn technology and the Science Curriculum.

The best method for communicating with me this 2020-2021 school year will be through my Yonkers Public Schools email: mcreacy@yonkerpublicschools.org. You should visit my teacher homepage on the Riverside High School homepage located at the following link: Mrs. Creacy-Jackson's Page for info and updates.

From September 8 -October 5th, 2020 it is the expectation that you log onto Microsoft Teams to follow the class during your regularly scheduled class time. Class Meetings have already been scheduled through Microsoft Teams and all you have to do is login to TEAMS . Just click the name of the class and the period and join. If you need any assistance, please email me and I'll be more than happy to help.

Students should feel free to email me at: mcreacy@yonkerspublicschools.org.
Office365

Mrs. Creacy-Jackson Classes:

*Students Please click the

Office 365 Link to complete your assignments using your one drive.

*Please use the microsoft word document.

* you can email your assignments to me.

* You can share it with me.

* You can take a screen shot and email me the screen shot.

Please email me you have any questions.