Civil Service Employee of the Year 2015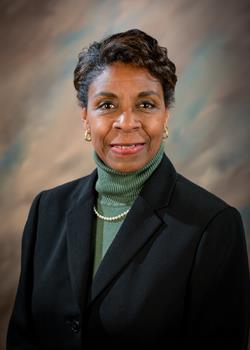 Phone:
Email:
Degrees and Certifications:
Brenda Freeman

Brenda Freeman joined the Yonkers Public Schools in 1988 as a temporary school aide for the PEARLS program at School 32. In 1999, she earned her current title, Permanent School Aide, and for the last seventeen of the twenty-eight years of service to the Yonkers Public Schools, Ms. Freeman established a home away from home at School 16. Ms. Freeman is a caring professional member of the school team and is considered to be Miss Congeniality of School 16 warmly responding to the needs of students, parents and staff.

Always going above and beyond was noted in every nomination for Ms. Freeman. School 16 Principal Cynthia Eisner wrote, "Brenda is the hospitality soul of our school supporting the staff and students in many different ways. She'll welcome new staff with supplies and an offer to help them find their way. As the Math Lab aide, she created many interesting materials and games to help students understand math concepts. As a prekindergarten classroom aide, she helped the teachers display the students' work creatively, helped students as they worked in the classroom, and on the playground she entertained the children with games to encourage physical activity."

Ms. Freeman is energetically involved in many School 16 activities. She facilitates the students and the senior citizen volunteers in the SMART program. Each week she greets the volunteers, warmly asking them about their week and helping them feel comfortable as they work with the students. Brenda coordinates the school's Sunshine Club and organizes breakfasts and lunches as well as holiday and end-of-the-year outings. Everyone looks forward to International Food Week in March when Brenda organizes menus for an entire week from staff created special dishes. Ms. Freeman is the CSEA building union representative who approaches problems with confidentiality and has a way of arranging consensus between parties.

Ms. Freeman works hard to make the school community a pleasant environment for students, staff and children. Teacher after teacher joyously wrote about the hardworking, dedicated and always helpful Brenda Freeman. They wrote how Ms. Freeman is well loved by staff and children alike. Creativity and a tenacious dedication to detail were noted in every nomination referencing Ms. Freeman's decorations in the faculty room, offices, auditorium and classrooms.

Ms. Freeman is active in the community participating in Yonkers Parks & Recreation Department Little Cooks after-school program, Project Friendship and Camp Pride where she is the arts and crafts instructor for special needs children. She has also worked with the Nepperhan Community Center and the Greenburgh Community Theatre.

Brenda Freeman and spouse Michael Blank are the proud parents of Brendan and Justin Freeman and Erik Blank. She is the daughter of Alphonso and the late Joyce Gilham, formerly executive secretary to two Yonkers superintendents of schools. Brenda is the loving sister of Colleen LaBianco a Yonkers teacher, Alison Colyar and the late Craig Gilham.

Brenda grew up in Yonkers, attended School 22, Emerson Junior High School and graduated from Gorton High School. Her post-secondary studies were completed at Westchester Community College where she earned an Associate Degree in Hotel/Restaurant Food Management.