2017 Administrator of the Year Leadership in Education Award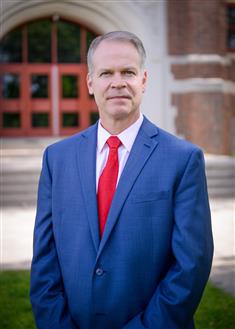 Phone:
Email:
Degrees and Certifications:
Mr. Edward DeChent

The Leadership in Education award, also known as the Administrator of the Year, is presented to an administrator who personifies the spirit, dedication and accomplishments of an outstanding instructional leader. "Edward DeChent is an educational leader who knows how to engage the entire school learning community to affect positive outcomes for students. Through his actions and relentless commitment to do what is best for children, Principal DeChent continues to bring Roosevelt High School – Early College Studies and the Yonkers Public Schools the positive recognition it deserves," applauded Dr. Edwin M. Quezada, Superintendent of Yonkers Public Schools

A native son of Yonkers, Edward DeChent attended School 13, Hawthorne Junior High School and graduated from Yonkers High School in 1984. He received a Bachelor of Science in Psychology from the University of Bridgeport, earned a Master of Science in Physical Education from Queens College and a professional certificate in School Building Leadership from Manhattanville College. While at the University of Bridgeport, Mr. DeChent excelled in academics and on the basketball court resulting in his induction into the Class of 2013 New England Basketball Hall of Fame.

In 1996, Mr. DeChent began his career in the Yonkers Public Schools as a Physical Education teacher at Eugenio Maria de Hostos School and the Casimir Pulaski School, and moved to Yonkers Middle High School in 1999. The college scholar athlete was destine to inspire and coach varsity sports in his home town; in 1996 Mr. DeChent coached junior varsity and from 1998 to 2005 varsity sports. Mr. DeChent's administrative career began in 2005 as an assistant principal working at Roosevelt, Gorton, Yonkers and Early College high schools. In January 2014, he was appointed to his current position as principal at Roosevelt High School - Early College Studies.

Principal DeChent was nominated by the staff at Roosevelt High School who credit the school's remarkable turnaround to his leadership. Statistics explain one side of the school success. The Roosevelt High School Team turned a failing school into a school in good standing. The graduation rate increased by more than twenty percentage points reaching the 86% in 2016 and there are significant increases in the number of students meeting or exceeding proficiency on all state exams. The school is bustling with after-school, evening and Saturday enrichment programs. It is truly a safe haven for young adults.

The most significant impact on Roosevelt's success story is the leadership of Principal DeChent. His soft spoken demeanor demands respect and in turn empowers students to learn by example and mirror his behavior. Because of his deep roots in the community, he has an innate ability to connect with students and parents. There is this sense that Mr. DeChent is okay because he's walked the same streets that they walk. Students refer to Mr. DeChent as a mentor, a motivator, even a father figure who has made a significant impact on their lives. Teachers described him as fair but stern, a disciplinarian who believes that every student can be saved and that no one is expendable. Administrators applaud his support and commitment not only for his school but also for District initiatives that benefit children. This year, he designed and supervised the new districtwide after-school Middle Years Intramural Sports Program for grades seven and eight. Over 600 young athletes learned the fundamental skills and knowledge necessary to support an active, productive and healthy lifestyle.

When asked what he like the most about his job, Mr. DeChent answered, "Assisting young people on their educational journey."

Edward and Maria DeChent are the proud parents of Amanda, Brandon and Eva. Mom Kathleen DeChent, brothers Eric and Daniel, sister Mary Pugliese, Aunt Kate Stefano and Uncle Matin DeChent revel in Edward's accomplishments.