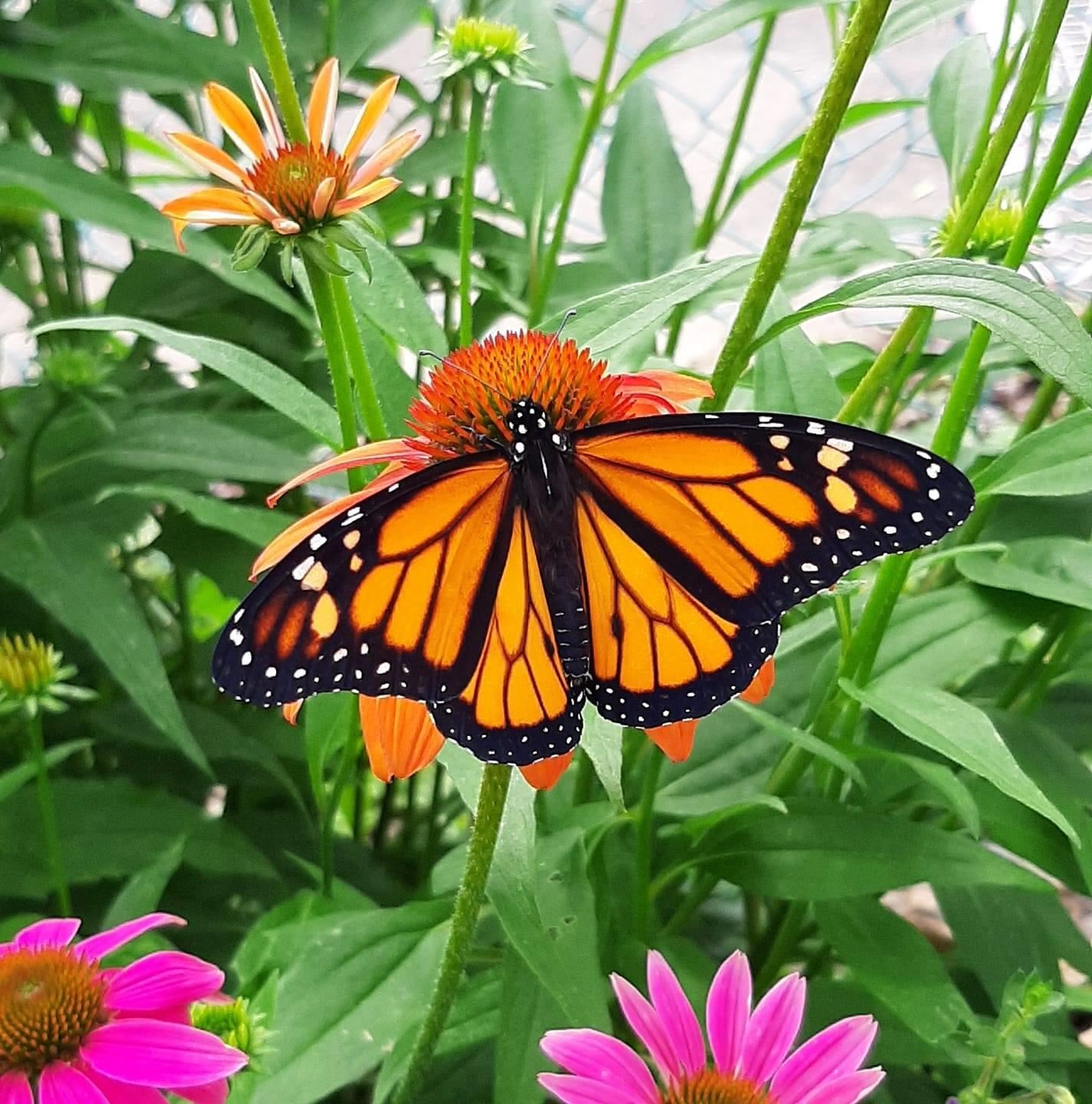 Phone:
Email:
Degrees and Certifications:
Ms.

Lucca

♥♥ FIRST THING!!! THE FASTEST WAY TO COMMUNICATE WITH MS. LUCCA IS BY E-MAIL at CLUCCA@YonkersPublicSchools.Org ♥ ♥

SCHOOL STARTS SEPTEMBER 8th PLEASE MAKE SURE YOU USE THE INSTRUCTIONS BELOW TO LOG ON, CHECK YOUR SCHEDULE, AND LEARN HOW TO GET TO CLASS ON TEAMS.

IT IS CRITICAL THAT YOU KNOW THE SCHEDULE AND SIGN ON AT THE TIME YOU HAVE CLASS. We are currently on a 100% online model, that means we are in class 5 days a week online and everyone in the class must log on during the time we are scheduled and participate on teams or you will be marked absent. CLICK HERE to see the times of each period.

Hi Everyone!! Please call me Ms. Lucca. This is my fourth year teaching chemistry at YMA. You might be thinking, if this is a chemistry class why is your picture a butterfly? Isn't that Biology? Well yes, but on top of being a full time chemistry teacher I run a volunteer gardening group that protects pollinating insects like bees and Monarch butterflies that have become threatened species. The butterfly shown is one of over 50 monarchs I raised this spring that were released in our butterfly meadow. I am also a floral designer and a professional face painter at the Bronx Zoo. I believe that we are more than just our jobs and that we can be good at lots of different things. Scientists actually need to be very creative! Science is not just about one thing and it interacts with many other fields including art, philosophy, literature, medicine, and even the culinary arts. Everything from how you download your music to the kinds of food you eat, involves a scientist at some point. To open up your horizons I do a lot of things in chemistry class that don't feel like the usual chemistry stuff. In our classes we will explore a lot of ideas and we will answer those very important questions like, "Why do I need this class?" and "Will I ever use this?".

I have 4 teams currently on Microsoft Teams, please go to Powerschool, CLICK HERE for a link, and get your schedule to see which period you are in.

To log on to all of your Microsoft school platforms CLICK HERE. This is where you will find your school email, where your teachers have probably already emailed you, by clicking on the Microsoft Outlook icon.

To log on to your school Microsoft Account Your login name will be your school ID/email address, like this: 12345@YonkersPublicSchools.org.

Your passwords have been reset, so currently your password is your birthday written like this MMDDYYYY, so if your birthday is March15, 2000, your Password is 03152000.

To go directly to your teams page you may click the period you are scheduled for, each period is a hyperlink which will lead you to your team. You will still need to sign in.

PERIOD 3 PERIOD 4 PERIOD 5 PERIOD 7

Once you are in teams, you will see a menu bar on the left, you can always view all the teams you are a member of by clicking the Teams Icon. For additional Teams help a good place to start is the YPS Website links FOUND HERE.

Once you are in your class page, you will see additional menus at the top of the page. Clicking FILES will lead you to the syllabus and documents we will be using for class.

Clicking on ASSIGNMENTS will lead you to the current assignments for the class. To ask questions in the chat, and to find current class meetings to join, click on POSTS to see our ongoing conversations and announcements.

I look forward to meeting you Tuesday! Please continue to use my teacher page as a central location to help you find information and understand how we are attending class and doing assignments.